The latest goods from BSD arrived!
BSD is one of those brands you can literally just put a bike together exclusively from and not have any issues for a while! Let us show you around the arrivals:
FRAMES
ALVX AF+ - True to the good ol' ALVX roots - 12.5" chainstays, 8.7" standover height, 75.5 headtube angle, brakeless design - this thing is designed to spin and do tech stuff! The improved Invest Cast chainstay yokes allow you to run tires up to 2.5" in the back and give infinite strength and stiffness. 20.8" and 21" top tube lengths available in Black and Electric Blue.
JONESIN' - Sam Jones' Signature Frame arrived! The Jonesin' has one of the steepest head tubes on the market - if you prefer nose stuff, this is the one for you! The 12.7" chain stays help with spins and agility and with a 8.9" standover the Jonesin' has a stable classic street-bike look. 20.8" and 21" TT options, Apricot color - brakeless design.
SAFARI - Reed Stark's Safari continues with 12.8" chainstays, making your bike a bit more agile - all the other aspects of the frame are designed with stability in mind! Coming with a respective 9.5" standover height, 75 head tube angle, 20.6" and 21" TT options, Candy Apple Red colorway, brakeless.
GRIME - The Denim Cox Signature Grime Frame is literally made to go through anything! Ready for it all - a nice 9" standover, 12.8" chainstays, 75.5 headtube angle and the Invest Cast yokes from the ALVX AF+ make sure you can cross anything with this frame. Coming in 20.8" and 21" top tube sizes, Arizona Copper colorway, brakeless design.
FREEDOM - No need to introduce Kriss kyle - the Freedom is true to its name, giving you complete freedom when riding! You can ride skate parks, dirt jumps, huge trails, the streets or anything else, this frame is a good partner for it. 13.2" chain stays, 9" standover, 75 head tube angle and a low, 11.5" bottom bracket height give you all the stability. Coming with a unique wishbone yoke at the chainstays in 20.8" and 21.1" top tube sizes, Sandstorm color, brake hardware sold separately.
RAIDER - The David Grant signature model coming with 13.5" chainstays is the longest, most stable frame in BSD's lineup - made for the biggest street setups! The 9.5" standover height and 123 mm tall head tube length give the Raider a unique look, coming with 21.3" TT in Flat Black for the really tall guys out there. Brake hardware sold separately.
BARS
FREEDOM - Kriss Kyle Signature bars in 8.75" or 9" height with 11 back and 2 upsweep - indestructible and light with the multi-butted 4130 Cro-Mo heat treated tubing! Coming in Flat Black.
GRIME 4pc - 4 piece bars matching with the design of the Denim Cox Signature line - available in 9" and 9.5" in Flat Black and Flat Raw, for the real street guys.
High As Hell - Just like it says! BSD's 10.5" bars are super tall, giving you the option to have a high front end with a classic front load look - find them in Flat Black and Flat Raw in our shop.
Leezus - Liam Zingbergs Signature Bars coming in 9.25" with 28.5" width, just perfect for any type of riding! Flat Black or Flat Raw.
Raider - David Grant 10" Bars with comfy angles and a respective 29.5" width in Flat Black and Flat Raw. Perfect for tall riders or guys looking for a classic front load setup with a decent height.
Safari - The popular Safari bars are back, designed by Reed Stark. Matching with all the other Safari goods - 9.1" or 9.6" height, 3 up and 13 back sweeps, taking care of your wrists on huge gap-to-flats as well! Flat Black or Flat Raw.
FORKS
Dust - The newcomer on BSD's lineup with a 26mm rake just perfect for those who are into every type of riding from street combos to high speed roasting! Basics didn't change - massive design, thick dropouts with Invest Cast technology and 157mm steerer length, Flat Black and Flat Raw colors available.
Jonesin' - The already proven Sam Jones signature forks got a revamp with new graphics, but the basics stood still - short, 22mm offset for nose manuals, massive build, Flat Black and Flat Raw colors. There's no missin' with Jonesin'!
RIMS
NASA - It's back! BSD's popular rims with cross-lace design and weight below 500g in Black - indestructible, easily the last rim you ever bought!
FRONT AND REAR HUBS
Back Street Pro - BSD's classic cassette hub is back - heat-treated Cro-Mo axle, bombproof internals, RHD or LHD in Flat Black.
West Coaster - Classic style freecoaster with revamped internals - improved, reliable internals, both hubguards included, RHD or LHD in Flat Black.
REVOLUTION FREECOASTER - BLACK AND POLISHED
Revolution - True to its name, revolutionizing the freecoaster game - its planetary clutch system was tested for years by BSD's pro team, making sure everything goes as planned. Opposed to the classic style freecoasters, the Revolution is ready for tailtaps and in addition the "infinite" gap makes every freecoaster move super safe - not to mention its looks and weight, just like a normal cassette! Both hubguards included, coming in Black and Polished.
SPROCKETS
Jonesin' - Along the good ol' Guard and Superlite there's something new as well - Jonesin'! matching design with the signature line, 25t for the grinders, massive removable nylon guard, available in Black and Raw.
GRIPS
Along the popular Passenger and Paley Slims some new goods arrived as well - Grime, Dunks and Leezus handles in all kinds of colors - super soft and super comfy, giving you a safe and firm grip in 160mm length for barspins.
TIRES
DONNASQUEAK - It's back in both 2.25" and 2.4"! The Donnasqueaks are BSD's popular tires for every terrain, coming with a punctureproof layer and grippy design.
DONNASTREET - 2.3" and 2.4" sizes available, Donnastreets are BSD's street oriented tires with a low resistance grippy surface and super strong, grind-friendly sidewalls. Its punctureproof design makes it the ultimate choice - even on the worst runup on the streets.
CRANKSETS
Substance - No need to introduce these bad boys - coming with a super strong 22mm axle, 2 and a half piece design, 165mm length, Flat Black or Flat Raw, these are meant to last.
Substance XL V2 - Coming with a free 24mm Mid BB, these cranksets are the ones to get! The new Invest Cast design makes these cranks easy on the ankles, giving a unique look and infinite strength with the hollow 24mm axle - these might be the last cranksets you ever bought! Coming in 165mm length, Flat Black or Flat Raw. 
PEDALS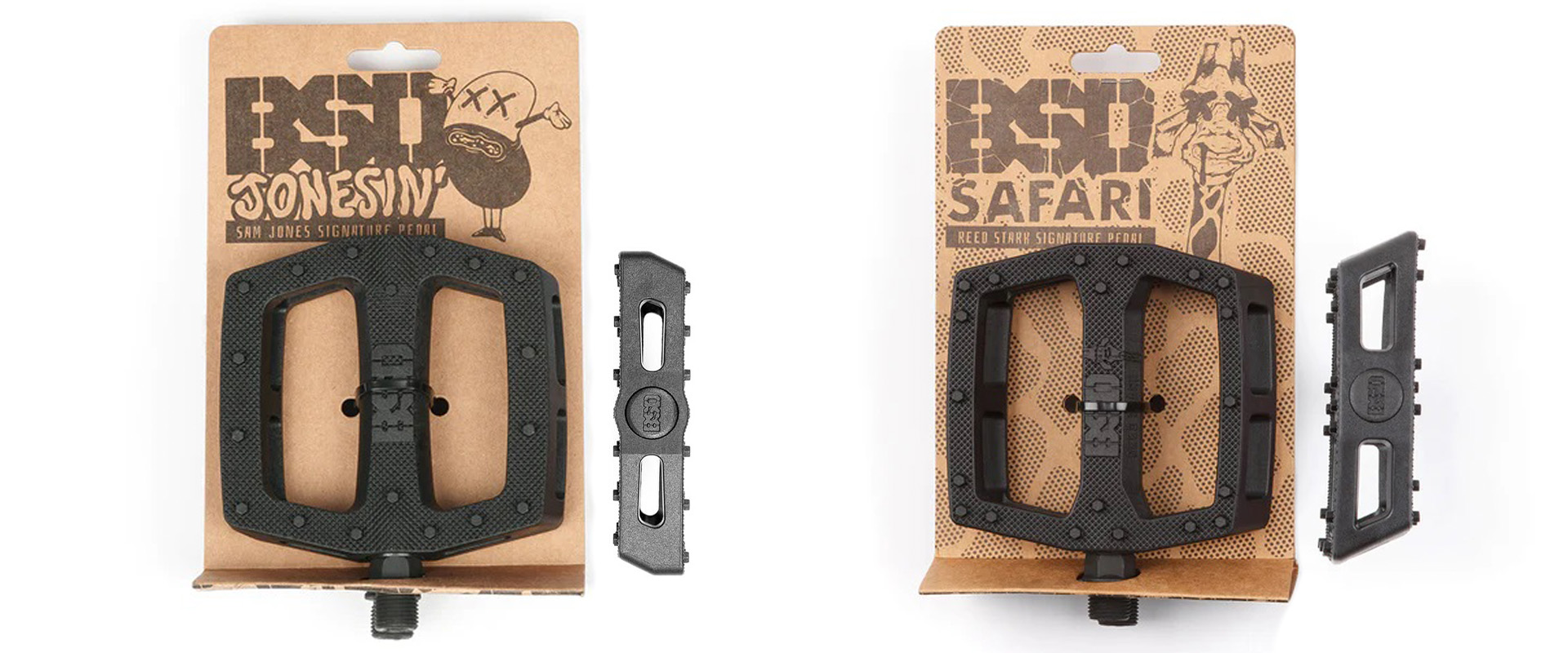 The well-known Jonesin' and Safari  reloaded - massive plastic pedals with a good amount of grip - the Jonesin' with a lower side profile and the Safari with a beefier pedal body and more pins.
PEGS
Rude Tube LT V2 - The popular Rude Tubes with an AL core and Cro-Mo adaptor - just about 115g each! 4.2" length, 10 and 14mm axle options.
Crack Pipe - Classic steels pegs for the real street guys in 4" length, 10 and 14mm axle options.
Rude Tube and Rude Tube XL - Back on stock in both sizes - 4.2" for the classic riders and XL in 4.5" length for the craziest hard/over/tech combos!
SEATS
Infinite amounts of seats in slim, mid and fat with the craziest/classiest designs from BSD! Come by or visit our webshop and top your bike off with your new favourite.